Students Demonstrate Microprocessor-Based Systems Projects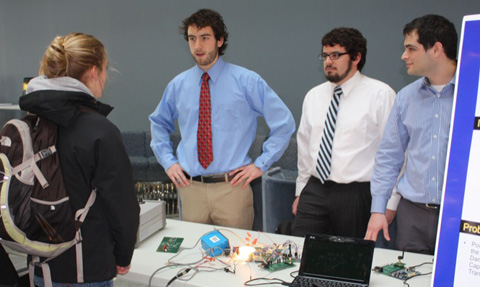 EECS undergraduate students Samuel DeBruin, Joseph Cobb, and Mitchell Adler demonstrate their prototype wireless AC power meter. The device, targeted for cubic-inch form factor, will enable building occupants to easily monitor the energy consumption of their plug loads.

On December 17, student teams from EECS 373, Design of Microprocessor-Based Systems, demonstrated their embedded design projects at a poster and demo session in the CSE Bulding's Tishman Hall. The projects, listed below, are a result of their work in the class taught by Asst. Prof. Prabal Dutta. For more information, visit the course website. This course was sponsored in part by the U-M College of Engineering, EECS, Microsemi Corp., Cypress Semiconductor, and Microsoft Corp.
Projects:
1. "Design of a Cubic-in AC Power Meter" - Mitchell Adler, Joseph Cobb, and Samuel DeBruin
2. "WiiBot: A Beacon-Following Robotic Vehicle" - Avishek Das, Bharat Murali, and Junjie Wu
3. "A Line-Following, Maze-Solving Robotic Vehicle"- Joshua Miyamoto and Scott Wilson
4. "Audio Headset-Based Sensor Peripheral for the Mobile Phone" - Brent Craigin and Hongyu Wang
5. "User-Friendly, Universal Television Remote" - Jeff Fo and Stephen Rettig
6. "Wireless Haptic Interface for a Mobile Robotic Arm" - Pat Pannuto, Jeremy Nash, Kenneth Meagher, and Cory Kalsbeek
7. "Building Block MIDI Controller" - Nate Slottow and Andrew Brandon
8. "Home Sensory Network" - Jason Varbedian, Dane Hillard, and Eliot Stern
9. "Wireless Solar Sensor Recharger" - Alyssa Glickman and David Dick
10. "Remote-Controlled, Robotic Maze Mapper" - Jonathan Plotzke, Darren Ashton, Daniel Rodriguez, and Christopher Burright
11. "Towards Cubic-cm Scale, Indoor Solar-Powered Sensors" - Lohit Yerva, Apoorva Bansal, Jay Patel, and Paul Chang
Photos from the Event
Below are photos from the event. To view or download larger photos, just click on the thumbnail image of interest.
---
Posted: December 20, 2010