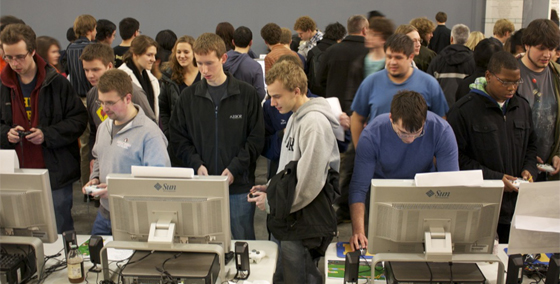 2011 Computer Games Showcase Highlights Final Projects
On Friday, December 16, CSE's Tishman Hall was packed as an enthusiastic crowd of attendees tried out new video games at the 2011 Computer Games Showcase. This highly anticipated annual event showcases the final projects of computer science seniors who have taken EECS 494, Computer Game Design and Implementation. The course, which has served as a model for similar courses across the country, was developed and is taught by Prof. John Laird.
The evening included presentations by the student developers and an opportunity for attendees to play the games at computer stations in Tishman Hall and vote for their favorites.
Thirteen projects were shown at the showcase:
| | |
| --- | --- |
| | Bananarchy, by Stephen Fulcher, Travis O'Sullivan, and Steve Wishnousky (voted #3 by attendees) |
| | Battle Bender, by Mark Dehring, Isaiah Hines, Corbin Phelps, and William Price - (voted #1 by attendees) |
| | Chemical X, by Alexander Eagal, Samuel Glazier, Duane Haddix, and Erben Mo |
| | Cool Tower, by Gregory Caldwell, Michael Harrison, Han Qi, and Yanting Yu |
| | Dense Space Probe 2.0, by Xiaoshan Cai, Haoyu Jia, Shaoyi Li, and Haowei Lu |
| | Dinos vs. Vikings, by Stephen Brown, Yi Li, Brian McDonald, and Aric Velbel |
| | Dwarf Mine Battle, by Andrew Konishi, Curt Lawrence, and Douglas Strait |
| | Ghost Planet, by Cody Bird, Ryan Meier, and Joe Mitchell - (voted #2 by attendees) |
| | Mansete Red, by Joshua Kiwiet-Pantaleoni, Joshua Larson, Kevin Lin, and David Zhou |
| | Robots vs. Zombie Aliens II, by Zachary Crites, Benjamin Fischer, and Kevin Hanlon |
| | Subject #42H, by David Bernthal, Hunter Burk, Nicholas Haskins, and Shaagnik Mukherji |
| | Wizards vs. Robots, by Thomas Bombach, Joshua Kling, William Laurain, and Landon Smith |
| | Zombie Annihilation, by Scott Raymond and Alexandru Oroszi |
The 2011 Computer Games Showcase was sponsored Microsoft and Electronic Arts. Both companies donated numerous video games that were given to developers of the three highest-ranking games and which were also given as raffle prizes to attendees.
Photos from the Event
Below are photos from the event. To view or download larger photos, just click on the thumbnail image of interest.
---
Posted: January 9, 2012