CSE Tech Talk and Alumni Event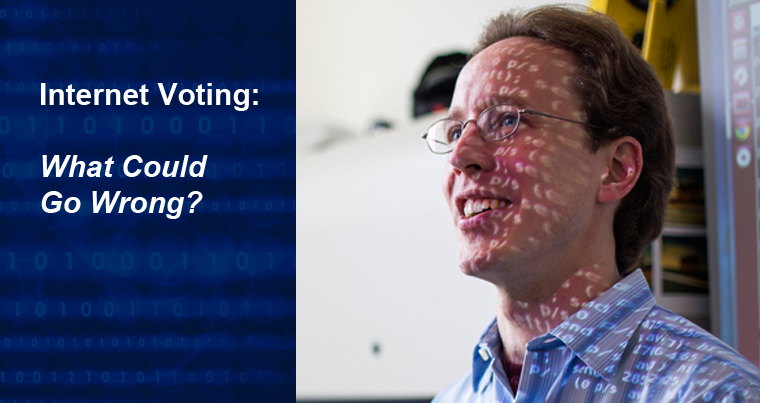 CSE alumni and friends are invited to join us for a tech talk and alumni reception. Noted security researcher Prof. J. Alex Halderman will speak on the perils of Internet voting.
Thursday, May 19, 2016
5:00 - 7:00pm
1881 Page Mill Road, Palo Alto, CA 94304
Directions and map
Reception to follow with plenty of time to mix. Hors d'oeuvres and beverages provided.
---
Internet Voting: What Could Go Wrong?
Internet voting has the potential to ease voter participation and provide a high-tech upgrade to traditional polling methods. Unfortunately, it also raises some of the most difficult challenges in computer security, due to the need to safeguard election servers and voters' computers against powerful attackers, while simultaneously protecting the secret ballot. How well can election technology defend against modern security threats? To find out, colleagues and I performed in-depth security evaluations of Internet voting systems used in the U.S. and around the world. We found staggering gaps in system designs and operational procedures—problems that would allow attackers to change votes, compromise privacy, disrupt returns, or cast doubt on election results. These case studies illustrate the practical obstacles to securing Internet voting and carry lessons for any locality considering adopting such systems.
J. Alex Halderman
Prof. J. Alex Halderman is an Associate Professor of Computer Science and Engineering at the University of Michigan and Director of Michigan's Center for Computer Security and Society. His interests include computer and network security, Internet security measurement, censorship resistance, and electronic voting, as well as the interaction of technology with law and international affairs.

Prof. Halderman has made many contributions in the area of voting. In 2007, he demonstrated the first e-voting virus and worked with the California Secretary of State office to help lead the first rigorous state-level review of e-voting security. He has demonstrated vulnerabilities in electronic voting machines and in Internet voting systems, which included breaking into the Washington DC testbed for Internet voting in 2010 in less than 24 hours. He led the first independent review of the India's national e-voting system, which prompted the country to undertake major reforms, and in 2014 participated in a similar effort in Estonia.

Named one of Popular Science's "Brilliant 10" for 2015, his recent projects include ZMap, Let's Encrypt, and the TLS Logjam vulnerability.
---
Questions?
If you have questions about this event, please contact:

Steve Crang
CSE Communications Manager
scrang@umich.edu
734-763-9996