---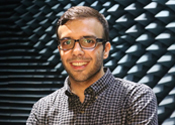 Mohammad Mousavi - Low-Cost Way to Monitor Snow and Ice Thickness
Specialty: Remote sensing
Honor: Weisnet Medal (Eastern Snow Conference 2016)

Mohammad has developed a new way to remotely measure the thickness of ice and snow with a technology he calls wideband autocorrelation radiometry (WiBAR), offering lower cost, lower power, and more flexibility than competing methods.
---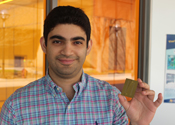 Armin Jam - Award-Winning Radar System for Navigation
Specialty: Sub-millimeter-wave radar
Honor: Best Paper Award

Armin Jam built an antenna, weighing only 5 grams, that will be part of a radar system 100 times smaller than industry standard. These devices will have very high detection resolutions and wide fields of view, and can work in autonomous vehicles and drones.
---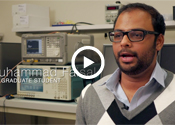 Muhammad Faisal - Entrepreneur in the Internet of Things
Specialty: RF circuits
Company: Movellus Circuits

Muhammad is a recent graduate with an electrical engineering PhD. His research in RF circuits for the Internet of Things attracted enough attention from industry that he founded a company to market it - Movellus Circuits. Muhammad credits his early success to the research and entrepreneurial resources offered to him by Michigan.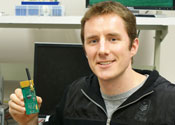 Nathan Roberts - Enabling the Internet of Things
Specialty: Ultra-low-power receivers
Honor: Best Paper Award

Nathan left a good job in industry to return to graduate school. He is now ready to make an impact by joining the startup company, PsiKick, specializing in miniature devices that power the Internet of Things.
---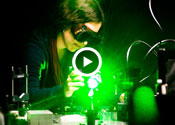 Elizabeth Cloos - Ambassador for Optics
Specialty: Optics
Advisor: Prof. Stephen Rand
Honors: NSF Graduate Research Fellowship; Rackham Merit Fellow 

Elizabeth founded the student chapter of OSA and the Int. Society fo Optics and Photonics. She is pursuing a certificate in Science Technology and Public Policy in addition to her PhD.
---
Luis Gomez - An Expert in Computational Electromagnetics and Teaching
Specialty: Computational Electromagnetics
Honor: NSF Graduate Research Fellowship
Leadership: Society of Hispanic Professional Engineers

Luis likes to teach, and enjoys a variety of activities in his free time. He stresses the importance of communication skills, and community involvement.
---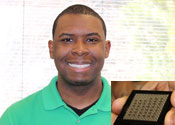 Christopher Boyd - From Robotics to MEMS Inertial Sensors
Specialty: Chip design and control for MEMS inertial sensors
Honor: NSF Graduate Research Fellowship

Christopher grew up in Detroit, MI, and graduated from Michigan with a bachelor's degree in electrical engineering.
---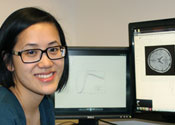 Mai Le - Finding a Better Way to Diagnose Breast Cancer with MRI
Specialty: Magnetic Resonance Image (MRI) Reconstruction
Honor: CoE Distinguished Leadership Award

Mai grew up in Texas. She enjoys being able to combine her interests in biological sciences and medicine with image processing.
---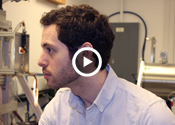 Tal Nagourney - Exploring Navigation
Specialty: MEMS


Tal is researching fabrication techniques for a micro rate-integrating gyroscope, using a vacuum mold and blowtorch. He earned his bachelor's degree from Rochester Inst. of Technology and his masteri's degree from Cornell.
---
Patrick Sheridan - Memristors and the Brain
Specialty: Memristor Devices for Neuromorphic Computing

Patrick earned his undergraduate degree at Virginia Tech  with bachelor's degrees in computer engineering and mathematics.
---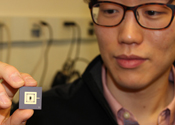 Gyouho Kim - A Big Talent for Creating Tiny Devices
Specialty: Ultra-low power VLSI design
Honors: Rackham Predoctoral Fellowship; Best Student Poster Award at the Annual MuSyC Review; DAC/ISSCC Student Design Contest winner; Arjun Chandran Memorial Scholarship; KLA-Tencor Corporate Scholarship

Gyouho travelled to the United States from Korea as a high school student. He earned his undergraduate degree at Michigan.
---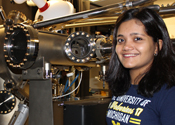 Saniye Deshpande - Taking it One Photon at a Time
Specialty: Nanowire and quantum-dot based quantum light sources, LEDs and lasers
Advisor: Pallab Bhattacharya, Charles M. Vest Distinguished University Professor and James R. Mellor Professor of Engineering
Honors: Research highlighed in Semiconductor Today

Saniya grew up in India, and arrived at Michigan in 2010 after receiving her bachelor's degree in electrical engineering.
---
Brian Buss - Controlling MARLO Specialty: Control Systems, Robotics
Advisor: Jessy Grizzle, Jerry W. and Carol L. Levin Professor of Engineering
Honor: NSF Gaduate Research Fellowship
Brian came to Michigan after receiving his bachelor's degree in electrical engineering from Brigham Young University. He's happy applying Systems to real-life problems.
---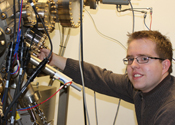 Thomas Frost - First generation college grad goes all the way
Specialty: Solid-State Optoelectronics
Advisor: Prof. Pallab Bhattacharya
Honors: NSF Graduate Student Research Fellowship
Activities: HKN, Tau Beta Pi

Thomas is a first-generation college graduate, and received his bachelor's and master's degrees at Michigan.
---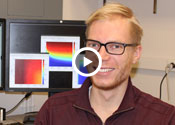 Nick Asendorf - Matrix Musician
Specialty: Machine Learning and Statistical Signal Processing
Advisor: Prof. Raj Nadakuditi
Honors: U-M Graduate Symposium Best Poster Award (2012, 2013); U-M Rackham Merit Fellowship 
Activities: President of ECE Graduate Student Council, Carillonneur

Nick received his bachelor's degree from the University of Maryland in computer engineering.
---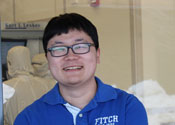 Kyusang Lee - A Leader in Flexible Solar Cell Technology
Specialty: Solid-State Optoelectronic Devices, Flexible Electronics
Advisor: Prof. Stephen Forrest
Honors: Best Student Presentation Award at the 2012 IEEE Photovoltaic Specialists conference


Kyusang Lee is on the leading edge of flexible electronics, building lightweight, flexible and semitransparent devices not possible with conventional silicon. Kyusang received his bachelor's degree from Korea University and his master's degree from Johns Hopkins University.