EECS 487: Interactive Computer Graphics
Winter 2007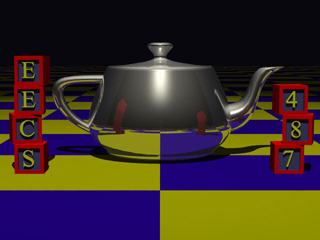 ---
Class information
Instructor: Lee Markosian
Office: 3741 CSE building
Office hours: MW 3:10 - 4:10pm, or by appointment (send e-mail or phone)
Contact info: e-mail: sapo@umich.edu, phone: (734) 647-6887


GSI: Manoj Rajagopalan
e-mail: rmanoj@eecs.umich.edu (Begin subject with "EECS 487")

Office:

2808 CSE


Phone:

(734) 763-6563

Office hours: In 2808 CSE on Thu+Fri 3:10-4:10pm, or by appointment (send e-mail or phone)
Lectures: Mondays and Wednesdays 1:40 - 3:00pm in 1690 CSE.

Labs: DIS 011: Friday 1:30 - 3:00pm in 1620 CSE.


---
Projects

Relevant labs:


Lab1 (line-rasterization)
Lab 2 (triangle-rasterization)

Relevant labs:

Lab 3 (OpenGL lighting)
Lab 4 (GL Shading Language - GLSL)

Relevant labs:

Lab 5 (Mathematical basis for transforms)

Lab 6 (Viewing)
Lab 7 (OpenGL transforms)


Relevant labs:

Lab 8 (Basic splines - interpolation and approximation)
Lab 9 (Splines in animation)


Relevant labs:

Lab 10 (Basic ray-tracing)
Lab 11 (Advanced ray-tracing)

---
Homework

---
Text books

Fundamentals of Computer Graphics, 2nd Edition, by Peter Shirley, Michael Ashikhmin, Michael Gleicher, Stephen R. Marschner, Erik Reinhard, Kelvin Sung, William B. Thompson, Peter Willemsen.

OpenGL® Programming Guide: The Official Guide to Learning OpenGL®, Version 2, 5th Edition, by Dave Shreiner, Mason Woo, Jackie Neider, Tom Davis.
---
Last updated: April 9, 2007